Granville FD Ambulance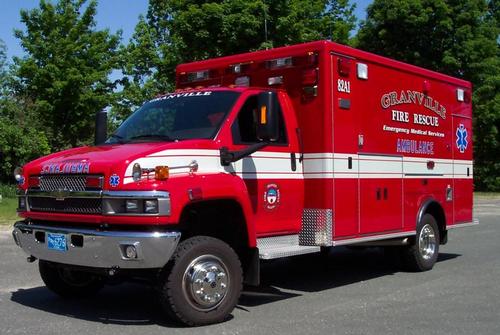 About Us:
The GFD operates a BLS ambulance staffed by volunteers. EMT's are certified by the Commonwealth of Massachusetts and must maintain their certification by attending continuing education courses throughout the year.
For incidents meeting Advanced Life Support criteria, Paramedics from Westfield Fire Department and Granby Ambulance are called upon to intercept with Granville's Ambulance. For severe trauma incidents Hartford Hospital's Lifestar Helicopter is used to rapidly transport critical patients to the nearest trauma facility.
"Help Our First Responders Help You"
When First Responders answer a medical emergency some of the critical pieces of information they need are 'What medications does the patient take? What pre-existing conditions does the patient have? Does the patient have any allergies?'
The Medical Information Card developed by Noble Hospital has the answers to these questions. Help our First Responders help you by filling one out for each member of your household and hanging it on the refrigerator.
First Responders are trained to look on the refrigerator for this form. Fill them out in pencil to make it easier to update.
Link to Medical Information Card.
Reflective Address Markers:
The Granville Ambulance Association is currently selling Reflective Address Markers to raise money to supplement the operating budget for equipment purchases. Additionally, the signs make the job of locating addresses much more efficient providing better service to the community.
Link to the Reflective Address Markers page.